Free Disaster Recovery Assessment Reveals
How Quickly Your Business Could Be Back Up And
Running After A Natural Disaster, Server Crash,
Hacker Attack, Or Other Data-Erasing Tragedy
Let's face it… no one likes to think about bad things happening to them, much less planning for them – Disaster Recovery Planning is one of those "important, not urgent" action items that (unfortunately) gets pushed to the back burner.
But since September is National Disaster Preparedness Month, we wanted to get you jump-started by giving you a Disaster Recovery Business Assessment (a $297 Value) – for FREE!
At no charge we'll come to your office and conduct a thorough assessment to determine: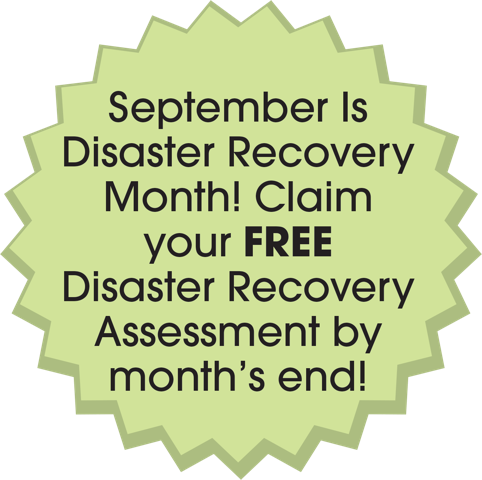 How fast you could realistically be back up and running in the event of any natural or human disaster.
What backup, security and business continuity systems you currently have in place and determine whether they are sufficient.
Is all of your critical data being backed up, every day?
What are the largest threats to the security and integrity of your critical business data?
Do you know what steps and costs would be involved to rebuild your server and recover your data if you had to?
Since this is free, you have no good excuse not to do it now. If we don't find any problems, you'll at least have peace of mind that your network is secure and that you could recover quickly in the event of a disaster. But if we DO find a few loopholes, you'll be able to fix them BEFORE you experience an unexpected catastrophe.
To Claim Your Disaster Recovery Assessment Today,
Give Us A Call at 919-346-7119
Offer is Only Valid During September 2015!
Claim Your Free
Disaster Recovery Assessment
Important! We hate spam as much (or more!) than you and promise to NEVER rent, share, or abuse your e-mail address and contact information in any way.
"Hooked on Proactive"
Time is money and very important to me. When you have multiple office personnel and the system goes down, you get hit not only with the cost of repair, but also the cost of downtime. With Managed IT Solutions' monitoring service, they oftentimes know before I do when there's a problem with my network and proactively resolve it before it escalates and impacts my bottom line. I receive monthly reports which update me on issues resolved in the background which could've disrupted my day-to-day functions, had they not been detected. When we do have to call, we always get a quick response and resolution. To me, the benefits we reap from retaining Managed IT Solutions as our IT firm are a key consideration in our monthly budget. I know we aren't the only customer they manage, but it feels like it, because we get such great support when we need it!
Scott Reeder, President and CEO Barefoot & Associates/Smithfield, NC
"THEY'VE GOT MY BACK!"
Managed IT Solutions has been my go-to IT partner since 2011. As with any business, running a fast-paced insurance agency requires that all your devices and systems work together to keep your entire infrastructure moving along. MITS' managed services take the guesswork and reactiveness out of IT, freeing me to grow the company and meet our goals. I rest easy knowing they've got my back, whether it's a workstation that needs a new hard drive, a printer not communicating with the network, a VoIP phone how-to question, or an email glitch. I rest easy knowing our data's safe and our files backed up securely, offsite. Recently, I had a chance to witness first-hand the importance of managed services. Their monitoring software alerted them the hard drive in my workstation was failing. They coordinated with Dell warranty to send a new drive, cloned my bad drive and had my PC back on my desk the next day, hardly giving me time to miss it! Their staff is always friendly and responsive – I know I can always count on MITS!
Matt Clark, Principal Clark Insurance