"What Every Business Owner MUST Know
To Protect Against Online
Identity Theft"
If you want to prevent your personal or business identity from being stolen by a cyber criminal, this eBook is a MUST read!
This eBook will outline in plain, non-technical English, common mistakes that many small business owners make with their computer and network security that puts their personal information and identity at risk of being stolen. It will also further explain what identity theft is, and how you can prevent it from happening to you and your business.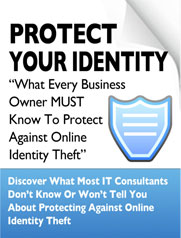 You'll Discover:
The top 3 ploys used by online identity thieves to easily gain access to your business & personal information and how to avoid them.
10 sneaky e-mails used to steal your identity that you should IMMEDIATELY delete if they land in your in-box.
One easy, sure-fire way to keep your network and computers safe and secure from online thieves.

"As one of the very first customers of Palladium Networks, Inc., I have truly had a chance to grow my business along side Rob Downs. Rob is a very genuine business owner that understands the real value in going above and beyond the call of duty for his clients. Since day one Palladium Networks has been there in encouragement of compelling my business to its true potential."
Joey Strong, President & CEO Spotless Clean & Carpet Care

"PNI (Palladium Networks, Inc.) has been a trusted and reliable business partner for HCW Employee Benefit Services since 2002. During this time, we have found that Rob does not simply deliver technology for technology sake, but he delivers IT solutions to help resolve the business issues we have faced. As we have grown from 5 employees to over 40 employees in a very dynamic industry, PNI has demonstrated their creativity and created value for our company. They have become an integral part of our success."
Todd Yates, Managing Partner HCW Employee Benefit Services